No, you can't test for asbestos yourself. Unless you are trained and certified in asbestos testing, and have access to the right equipment, it is not recommended that you do so.
Asbestos is a naturally occurring material that was used for many years in construction materials such as ceiling tiles, flooring and pipe insulation products between 1920-1970. Asbestos fibers are dangerous when inhaled because they can lodge themselves in lung tissue where they cause scarring and inflammation which may eventually lead to lung cancer or mesothelioma (a rare cancer of the lining of the chest or abdomen).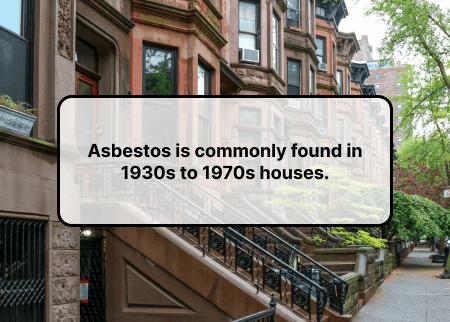 The only way to know if there's asbestos present in your home is by hiring an inspector who is certified to collect the samples which are then shipped to a certified laboratory for testing. It is impossible to test for asbestos without laboratory equipment.
If you suspect asbestos, contact a professional.
It's always a good idea to call an expert when you suspect asbestos. Don't try to remove it yourself, and don't use a home test kit or any other DIY method of testing for asbestos.
Do not use a home test kit. Home test kits are just gloves and zip-loc bags which you use to collect the samples and ship to the laboratory. Sounds good, right? Problem is that in many states those test results would be invalid, samples must be collected by a certified inspector to be valid as well as tested in a laboratory approved by the state(not always the case).
Do not use the DIY asbestos abatement process. Without the right equipment you are putting yourself at risk.
Don't hire someone who says they can do this alone, either—it's illegal for contractors to work on buildings containing asbestos without being licensed by the state in which they're working (and often other states as well).
Asbestos is still present in many older buildings.
Asbestos was used in many building materials, including insulation, fireproofing and floor tiles. Asbestos is known to be harmful to humans if inhaled. While it's not possible to completely eliminate the possibility of encountering asbestos when renovating an older home or building, you can take some precautions that will minimize your risk of exposure.
A few simple steps can help ensure that no one in your family is exposed to harmful asbestos fibers:
Keep children under 10 out of areas where asbestos may be present (e.g., attics) until work has been completed by a trained professional
Avoid disturbing any areas where there might be asbestos-containing material
Use proper protective equipment when working with materials containing asbestos
The only way to be sure if something has asbestos is to have it tested by a laboratory.
If you're wondering whether or not to test for asbestos yourself, the answer is no. The only way to be sure if something has asbestos is to have a laboratory do it.
It isn't possible to test for yourself because of how dangerous the substance can be, and home tests kits are often unreliable at best. A visual inspection alone won't tell you much, either—even when there's obvious damage from asbestos exposure it's hard for untrained eyes to make out exactly what kind of material is present in a given area (and what its risks may be). And even professional building inspectors aren't very good at identifying asbestos materials; they tend only find out after they come into contact with contaminated dust while inspecting an area or removing an object from a building site.
Is this worth testing?
Asbestos testing is a serious matter. If you're going to test for asbestos yourself, it's important that you know what you're doing and have the right equipment. In addition, it can be very difficult to tell if a substance contains asbestos without laboratory analysis. So before deciding that testing is a better option than hiring an expert, consider whether this is really worth your time and effort:
What are your goals? Do you just want to confirm that there isn't any asbestos in your home? Or do you want to know what type of asbestos (if any) was used in construction materials? You may need specific answers before pursuing testing.
How much time do I have on my hands? Asbestos abatement projects require careful attention—and plenty of it. If not done correctly, they can cause serious health problems for anyone involved with the project; even more troublingly, they can release toxic fibers into the air where others may breathe them in. A professional contractor will ensure safety throughout all stages of an abatement job by taking precautions like wearing protective gear when handling contaminated samples or debris from old building materials with known high levels of carcinogenic compounds like chrysotile fibres found in crumbling insulation panels made from vermiculite or tremolite rock types commonly mined in Montana during World War II due its silicate minerals containing minerals which give off toxic fumes when heated at high temperatures above 600 degrees Celsius which leads us back here again but anyway so long story short if left unprotected against these dangerous vapors then someone might get sick or worse yet die from lung cancer caused by breathing these particles over years upon years until one day there aren't enough cells left intact within their respiratory tract tissue left alive anymore causing complete organ failure resulting ultimately fatal consequences!
Conclusion
If you think it might be worth testing, don't do it yourself. Contact a professional who can help you with the best way to proceed. This can be a complicated process and you need someone who knows what they're doing. If asbestos is found in your home, there are many steps that must be taken before removing it because of its harmful effects on humans and the environment (especially if improperly handled).